Hi All– have been working on getting my konnected / Hubitat Elevation Hub system up and running. Previously (several months ago) wired in the konnected boards and then installed the hub, added the konnected apps and drivers, and everything looked pretty good. Could see on a device page the change of opening and closing a door. Got busy and left it alone for a few months until now. Came back to the system and was also armed with a phone that could run the Hubitat app a few days ago. Had initial issue finding the hub – had remove and replace its power to get it to show on the router. Once I was in, I updated the hub software, but then found all the "devices" were static – none were updating. I could open doors but the device page and dashboard showed continuously closed (unchanged). Looked at the logs and device events and found that nothing had changed status since May (now the end of July).
I looked for answers/fixes and stumbled upon this page - https://community.hubitat.com/t/konnected-alarm-boards-not-seen-once-added/5621/4
It looked similar to my issue and pointed to a range extender on the wifi as a causal factor (MAC spoofing of the konnected cards). Since I have a range extender I did as discussed on the page and re-installed everything with the range extender powered off. Did a soft reset of the Hubitat hub, flashed all four of my konnected modules, reinstalled everything (apps & drivers). I could not get the Hubitat Hub to discover any of my konnected boards. I looked at my router and the boards were there with their proper MAC addresses – but the Hub simply would not discover them….. I found that if I restored the Hub to an earlier software version, the discovery and zone definatization process worked as advertised (and as it had done months ago initially). I had two old configuration choices and I chose "2.0.9.133" as it was the earliest of the choices displayed – was probably what the hub was shipped with.
So with all re-installed and the range extender still off, I re-created a dashboard and tested many of the sensors throughout the house and found them to be working – went to bed feeling pretty good 
I took a look at my dashboard around noon the next day (wifi range extender still off) and found it again was frozen (shut doors would show shut with door open). Went to the computer to pull up the hub portal and could not find the Hubitat Hub. Checked the router page and it showed the konnected boards but not the Hubitat Hub MAC. I cycled power to the Hub and it appeared on the router page at a different IP address from before (as expected) but I was able to get into the portal at this point. Found myself back where I was at the beginning. The Hub appeared to stop updating status of the zones between 0845 and 0920 this morning and I cannot get it work.
Looking for help as I am out of things to try and have poured over the existing posts to avoid posting my ineptness. I have attached the Hubitat portal log and a screenshot of a device (door sensor – door was open when screen shot was taken).
Really it comes down to a few questions:
Why would I need to go to an old Hubitat software load to enable discovery of konnected devices? Why does my Hub disappear from the router after 9 or 10 hours? And require a power cycle to come back online? Why does the Hubitat hub stop updating status changes of the konnected devices? What do I need to do to make the system work as advertised? Do I need a new Hub? Is there bad code somewhere? Am I just doing something wrong? Why does it appear to be working fine for a few hours and then stop working all together?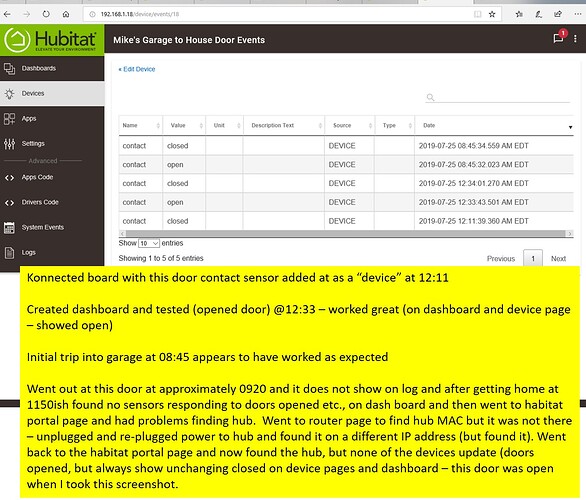 Thx v/r Wood

Past Logs


DashboardsDevicesAppsSettings

Advanced

codeApps CodecodeDrivers CodeSystem EventsLogs

•	All

•	konnected-9DF136

•	Konnected Service Manager

•	konnected-9DEA7A

•	Konnected (Connect)

•	Olivia's Bath Window (1)

•	Mike's Garage to Outside/Back Door

•	Dining Room Windows (2)

•	Family Room Windows (5)

•	Olivia's Bedroom Windows (2)

•	Office/Study Windows (2)

•	Hubitat® Dashboard

•	konnected-9DEF3F

•	Mike's Garage to House Door

•	Family Room to Lanai Door

•	Triple Slider to Lanai Door

•	Cabana Bath to Lanai Door

•	Master Bath Windows (2)

•	Master Bedroom Windows (5)

•	Dining Nook to Lanai Door

•	CO detector by Nook

•	Master Bedroom to Lanai Door

•	Ambia's Garage to House Door

•	Front Door

•	Family Room Motion Detector

search

app:442019-07-25 12:45:02.869 pm debugRefreshed attributes of device [deviceAddress:2b88, ssdpTerm:urn:schemas-konnected-io:device:Security:1, serialNumber:, hub:1, name:, verified:true, ssdpPath:/Device.xml, model:Konnected, ssdpUSN:uuid:8f655392-a778-4fee-97b9-48259182ffa46:schemas-konnected-io:device:Security:1, networkAddress:C0A80105, mac:ECFABC2FFA46, ssdpNTS:null]

app:422019-07-25 12:45:02.862 pm debugRefreshed attributes of device [deviceAddress:47ad, ssdpTerm:urn:schemas-konnected-io:device:Security:1, serialNumber:, hub:1, name:, verified:true, ssdpPath:/Device.xml, model:Konnected, ssdpUSN:uuid:8f655392-a778-4fee-97b9-48259189dea7a:schemas-konnected-io:device:Security:1, networkAddress:C0A80103, mac:BCDDC29DEA7A, ssdpNTS:null]

app:432019-07-25 12:45:02.797 pm debugRefreshed attributes of device [deviceAddress:47ae, ssdpTerm:urn:schemas-konnected-io:device:Security:1, serialNumber:, hub:1, name:, verified:true, ssdpPath:/Device.xml, model:Konnected, ssdpUSN:uuid:8f655392-a778-4fee-97b9-48259189df136:schemas-konnected-io:device:Security:1, networkAddress:C0A80108, mac:BCDDC29DF136, ssdpNTS:null]

app:412019-07-25 12:45:02.650 pm debugRefreshed attributes of device [deviceAddress:47ae, ssdpTerm:urn:schemas-konnected-io:device:Security:1, serialNumber:, hub:1, name:, verified:true, ssdpPath:/Device.xml, model:Konnected, ssdpUSN:uuid:8f655392-a778-4fee-97b9-48259189def3f:schemas-konnected-io:device:Security:1, networkAddress:C0A80113, mac:BCDDC29DEF3F, ssdpNTS:null]

app:12019-07-25 12:45:02.093 pm debugDiscovering Konnected devices on the network via SSDP

app:432019-07-25 12:41:15.919 pm debugRefreshed attributes of device [deviceAddress:47ae, ssdpTerm:urn:schemas-konnected-io:device:Security:1, serialNumber:, hub:1, name:, verified:true, ssdpPath:/Device.xml, model:Konnected, ssdpUSN:uuid:8f655392-a778-4fee-97b9-48259189df136:schemas-konnected-io:device:Security:1, networkAddress:C0A80108, mac:BCDDC29DF136, ssdpNTS:null]

app:412019-07-25 12:41:15.718 pm debugRefreshed attributes of device [deviceAddress:47ae, ssdpTerm:urn:schemas-konnected-io:device:Security:1, serialNumber:, hub:1, name:, verified:true, ssdpPath:/Device.xml, model:Konnected, ssdpUSN:uuid:8f655392-a778-4fee-97b9-48259189def3f:schemas-konnected-io:device:Security:1, networkAddress:C0A80113, mac:BCDDC29DEF3F, ssdpNTS:null]

app:442019-07-25 12:41:13.763 pm debugRefreshed attributes of device [deviceAddress:2b88, ssdpTerm:urn:schemas-konnected-io:device:Security:1, serialNumber:, hub:1, name:, verified:true, ssdpPath:/Device.xml, model:Konnected, ssdpUSN:uuid:8f655392-a778-4fee-97b9-48259182ffa46:schemas-konnected-io:device:Security:1, networkAddress:C0A80105, mac:ECFABC2FFA46, ssdpNTS:null]

app:422019-07-25 12:41:13.700 pm debugRefreshed attributes of device [deviceAddress:47ad, ssdpTerm:urn:schemas-konnected-io:device:Security:1, serialNumber:, hub:1, name:, verified:true, ssdpPath:/Device.xml, model:Konnected, ssdpUSN:uuid:8f655392-a778-4fee-97b9-48259189dea7a:schemas-konnected-io:device:Security:1, networkAddress:C0A80103, mac:BCDDC29DEA7A, ssdpNTS:null]

app:12019-07-25 12:41:02.990 pm debugDiscovering Konnected devices on the network via SSDP

app:442019-07-25 12:35:02.597 pm debugRefreshed attributes of device [deviceAddress:2b88, ssdpTerm:urn:schemas-konnected-io:device:Security:1, serialNumber:, hub:1, name:, verified:true, ssdpPath:/Device.xml, model:Konnected, ssdpUSN:uuid:8f655392-a778-4fee-97b9-48259182ffa46:schemas-konnected-io:device:Security:1, networkAddress:C0A80105, mac:ECFABC2FFA46, ssdpNTS:null]

app:422019-07-25 12:35:02.593 pm debugRefreshed attributes of device [deviceAddress:47ad, ssdpTerm:urn:schemas-konnected-io:device:Security:1, serialNumber:, hub:1, name:, verified:true, ssdpPath:/Device.xml, model:Konnected, ssdpUSN:uuid:8f655392-a778-4fee-97b9-48259189dea7a:schemas-konnected-io:device:Security:1, networkAddress:C0A80103, mac:BCDDC29DEA7A, ssdpNTS:null]

app:432019-07-25 12:35:02.584 pm debugRefreshed attributes of device [deviceAddress:47ae, ssdpTerm:urn:schemas-konnected-io:device:Security:1, serialNumber:, hub:1, name:, verified:true, ssdpPath:/Device.xml, model:Konnected, ssdpUSN:uuid:8f655392-a778-4fee-97b9-48259189df136:schemas-konnected-io:device:Security:1, networkAddress:C0A80108, mac:BCDDC29DF136, ssdpNTS:null]

app:412019-07-25 12:35:02.481 pm debugRefreshed attributes of device [deviceAddress:47ae, ssdpTerm:urn:schemas-konnected-io:device:Security:1, serialNumber:, hub:1, name:, verified:true, ssdpPath:/Device.xml, model:Konnected, ssdpUSN:uuid:8f655392-a778-4fee-97b9-48259189def3f:schemas-konnected-io:device:Security:1, networkAddress:C0A80113, mac:BCDDC29DEF3F, ssdpNTS:null]

app:12019-07-25 12:35:02.120 pm debugDiscovering Konnected devices on the network via SSDP

app:422019-07-25 12:30:02.533 pm debugRefreshed attributes of device [deviceAddress:47ad, ssdpTerm:urn:schemas-konnected-io:device:Security:1, serialNumber:, hub:1, name:, verified:true, ssdpPath:/Device.xml, model:Konnected, ssdpUSN:uuid:8f655392-a778-4fee-97b9-48259189dea7a:schemas-konnected-io:device:Security:1, networkAddress:C0A80103, mac:BCDDC29DEA7A, ssdpNTS:null]

app:442019-07-25 12:30:02.507 pm debugRefreshed attributes of device [deviceAddress:2b88, ssdpTerm:urn:schemas-konnected-io:device:Security:1, serialNumber:, hub:1, name:, verified:true, ssdpPath:/Device.xml, model:Konnected, ssdpUSN:uuid:8f655392-a778-4fee-97b9-48259182ffa46:schemas-konnected-io:device:Security:1, networkAddress:C0A80105, mac:ECFABC2FFA46, ssdpNTS:null]

app:432019-07-25 12:30:02.424 pm debugRefreshed attributes of device [deviceAddress:47ae, ssdpTerm:urn:schemas-konnected-io:device:Security:1, serialNumber:, hub:1, name:, verified:true, ssdpPath:/Device.xml, model:Konnected, ssdpUSN:uuid:8f655392-a778-4fee-97b9-48259189df136:schemas-konnected-io:device:Security:1, networkAddress:C0A80108, mac:BCDDC29DF136, ssdpNTS:null]

app:412019-07-25 12:30:02.419 pm debugRefreshed attributes of device [deviceAddress:47ae, ssdpTerm:urn:schemas-konnected-io:device:Security:1, serialNumber:, hub:1, name:, verified:true, ssdpPath:/Device.xml, model:Konnected, ssdpUSN:uuid:8f655392-a778-4fee-97b9-48259189def3f:schemas-konnected-io:device:Security:1, networkAddress:C0A80113, mac:BCDDC29DEF3F, ssdpNTS:null]

app:12019-07-25 12:30:02.071 pm debugDiscovering Konnected devices on the network via SSDP

app:422019-07-25 12:25:02.447 pm debugRefreshed attributes of device [deviceAddress:47ad, ssdpTerm:urn:schemas-konnected-io:device:Security:1, serialNumber:, hub:1, name:, verified:true, ssdpPath:/Device.xml, model:Konnected, ssdpUSN:uuid:8f655392-a778-4fee-97b9-48259189dea7a:schemas-konnected-io:device:Security:1, networkAddress:C0A80103, mac:BCDDC29DEA7A, ssdpNTS:null]

app:432019-07-25 12:25:02.428 pm debugRefreshed attributes of device [deviceAddress:47ae, ssdpTerm:urn:schemas-konnected-io:device:Security:1, serialNumber:, hub:1, name:, verified:true, ssdpPath:/Device.xml, model:Konnected, ssdpUSN:uuid:8f655392-a778-4fee-97b9-48259189df136:schemas-konnected-io:device:Security:1, networkAddress:C0A80108, mac:BCDDC29DF136, ssdpNTS:null]

app:442019-07-25 12:25:02.422 pm debugRefreshed attributes of device [deviceAddress:2b88, ssdpTerm:urn:schemas-konnected-io:device:Security:1, serialNumber:, hub:1, name:, verified:true, ssdpPath:/Device.xml, model:Konnected, ssdpUSN:uuid:8f655392-a778-4fee-97b9-48259182ffa46:schemas-konnected-io:device:Security:1, networkAddress:C0A80105, mac:ECFABC2FFA46, ssdpNTS:null]

app:412019-07-25 12:25:02.362 pm debugRefreshed attributes of device [deviceAddress:47ae, ssdpTerm:urn:schemas-konnected-io:device:Security:1, serialNumber:, hub:1, name:, verified:true, ssdpPath:/Device.xml, model:Konnected, ssdpUSN:uuid:8f655392-a778-4fee-97b9-48259189def3f:schemas-konnected-io:device:Security:1, networkAddress:C0A80113, mac:BCDDC29DEF3F, ssdpNTS:null]

app:12019-07-25 12:25:02.059 pm debugDiscovering Konnected devices on the network via SSDP

app:412019-07-25 12:20:02.625 pm debugRefreshed attributes of device [deviceAddress:47ae, ssdpTerm:urn:schemas-konnected-io:device:Security:1, serialNumber:, hub:1, name:, verified:true, ssdpPath:/Device.xml, model:Konnected, ssdpUSN:uuid:8f655392-a778-4fee-97b9-48259189def3f:schemas-konnected-io:device:Security:1, networkAddress:C0A80113, mac:BCDDC29DEF3F, ssdpNTS:null]

app:442019-07-25 12:20:02.612 pm debugRefreshed attributes of device [deviceAddress:2b88, ssdpTerm:urn:schemas-konnected-io:device:Security:1, serialNumber:, hub:1, name:, verified:true, ssdpPath:/Device.xml, model:Konnected, ssdpUSN:uuid:8f655392-a778-4fee-97b9-48259182ffa46:schemas-konnected-io:device:Security:1, networkAddress:C0A80105, mac:ECFABC2FFA46, ssdpNTS:null]

app:422019-07-25 12:20:02.537 pm debugRefreshed attributes of device [deviceAddress:47ad, ssdpTerm:urn:schemas-konnected-io:device:Security:1, serialNumber:, hub:1, name:, verified:true, ssdpPath:/Device.xml, model:Konnected, ssdpUSN:uuid:8f655392-a778-4fee-97b9-48259189dea7a:schemas-konnected-io:device:Security:1, networkAddress:C0A80103, mac:BCDDC29DEA7A, ssdpNTS:null]

app:12019-07-25 12:20:02.099 pm debugDiscovering Konnected devices on the network via SSDP

app:442019-07-25 12:15:02.435 pm debugRefreshed attributes of device [deviceAddress:2b88, ssdpTerm:urn:schemas-konnected-io:device:Security:1, serialNumber:, hub:1, name:, verified:true, ssdpPath:/Device.xml, model:Konnected, ssdpUSN:uuid:8f655392-a778-4fee-97b9-48259182ffa46:schemas-konnected-io:device:Security:1, networkAddress:C0A80105, mac:ECFABC2FFA46, ssdpNTS:null]

app:432019-07-25 12:15:02.381 pm debugRefreshed attributes of device [deviceAddress:47ae, ssdpTerm:urn:schemas-konnected-io:device:Security:1, serialNumber:, hub:1, name:, verified:true, ssdpPath:/Device.xml, model:Konnected, ssdpUSN:uuid:8f655392-a778-4fee-97b9-48259189df136:schemas-konnected-io:device:Security:1, networkAddress:C0A80108, mac:BCDDC29DF136, ssdpNTS:null]

app:412019-07-25 12:15:02.302 pm debugRefreshed attributes of device [deviceAddress:47ae, ssdpTerm:urn:schemas-konnected-io:device:Security:1, serialNumber:, hub:1, name:, verified:true, ssdpPath:/Device.xml, model:Konnected, ssdpUSN:uuid:8f655392-a778-4fee-97b9-48259189def3f:schemas-konnected-io:device:Security:1, networkAddress:C0A80113, mac:BCDDC29DEF3F, ssdpNTS:null]

app:422019-07-25 12:15:02.260 pm debugRefreshed attributes of device [deviceAddress:47ad, ssdpTerm:urn:schemas-konnected-io:device:Security:1, serialNumber:, hub:1, name:, verified:true, ssdpPath:/Device.xml, model:Konnected, ssdpUSN:uuid:8f655392-a778-4fee-97b9-48259189dea7a:schemas-konnected-io:device:Security:1, networkAddress:C0A80103, mac:BCDDC29DEA7A, ssdpNTS:null]

app:12019-07-25 12:15:02.092 pm debugDiscovering Konnected devices on the network via SSDP

app:442019-07-25 12:10:02.538 pm debugRefreshed attributes of device [deviceAddress:2b88, ssdpTerm:urn:schemas-konnected-io:device:Security:1, serialNumber:, hub:1, name:, verified:true, ssdpPath:/Device.xml, model:Konnected, ssdpUSN:uuid:8f655392-a778-4fee-97b9-48259182ffa46:schemas-konnected-io:device:Security:1, networkAddress:C0A80105, mac:ECFABC2FFA46, ssdpNTS:null]

app:432019-07-25 12:10:02.537 pm debugRefreshed attributes of device [deviceAddress:47ae, ssdpTerm:urn:schemas-konnected-io:device:Security:1, serialNumber:, hub:1, name:, verified:true, ssdpPath:/Device.xml, model:Konnected, ssdpUSN:uuid:8f655392-a778-4fee-97b9-48259189df136:schemas-konnected-io:device:Security:1, networkAddress:C0A80108, mac:BCDDC29DF136, ssdpNTS:null]

app:422019-07-25 12:10:02.528 pm debugRefreshed attributes of device [deviceAddress:47ad, ssdpTerm:urn:schemas-konnected-io:device:Security:1, serialNumber:, hub:1, name:, verified:true, ssdpPath:/Device.xml, model:Konnected, ssdpUSN:uuid:8f655392-a778-4fee-97b9-48259189dea7a:schemas-konnected-io:device:Security:1, networkAddress:C0A80103, mac:BCDDC29DEA7A, ssdpNTS:null]

app:412019-07-25 12:10:02.408 pm debugRefreshed attributes of device [deviceAddress:47ae, ssdpTerm:urn:schemas-konnected-io:device:Security:1, serialNumber:, hub:1, name:, verified:true, ssdpPath:/Device.xml, model:Konnected, ssdpUSN:uuid:8f655392-a778-4fee-97b9-48259189def3f:schemas-konnected-io:device:Security:1, networkAddress:C0A80113, mac:BCDDC29DEF3F, ssdpNTS:null]

app:12019-07-25 12:10:02.090 pm debugDiscovering Konnected devices on the network via SSDP

app:432019-07-25 12:05:02.538 pm debugRefreshed attributes of device [deviceAddress:47ae, ssdpTerm:urn:schemas-konnected-io:device:Security:1, serialNumber:, hub:1, name:, verified:true, ssdpPath:/Device.xml, model:Konnected, ssdpUSN:uuid:8f655392-a778-4fee-97b9-48259189df136:schemas-konnected-io:device:Security:1, networkAddress:C0A80108, mac:BCDDC29DF136, ssdpNTS:null]

app:422019-07-25 12:05:02.475 pm debugRefreshed attributes of device [deviceAddress:47ad, ssdpTerm:urn:schemas-konnected-io:device:Security:1, serialNumber:, hub:1, name:, verified:true, ssdpPath:/Device.xml, model:Konnected, ssdpUSN:uuid:8f655392-a778-4fee-97b9-48259189dea7a:schemas-konnected-io:device:Security:1, networkAddress:C0A80103, mac:BCDDC29DEA7A, ssdpNTS:null]

app:442019-07-25 12:05:02.472 pm debugRefreshed attributes of device [deviceAddress:2b88, ssdpTerm:urn:schemas-konnected-io:device:Security:1, serialNumber:, hub:1, name:, verified:true, ssdpPath:/Device.xml, model:Konnected, ssdpUSN:uuid:8f655392-a778-4fee-97b9-48259182ffa46:schemas-konnected-io:device:Security:1, networkAddress:C0A80105, mac:ECFABC2FFA46, ssdpNTS:null]

app:412019-07-25 12:05:02.425 pm debugRefreshed attributes of device [deviceAddress:47ae, ssdpTerm:urn:schemas-konnected-io:device:Security:1, serialNumber:, hub:1, name:, verified:true, ssdpPath:/Device.xml, model:Konnected, ssdpUSN:uuid:8f655392-a778-4fee-97b9-48259189def3f:schemas-konnected-io:device:Security:1, networkAddress:C0A80113, mac:BCDDC29DEF3F, ssdpNTS:null]

app:12019-07-25 12:05:02.057 pm debugDiscovering Konnected devices on the network via SSDP

app:12019-07-25 12:00:02.055 pm debugDiscovering Konnected devices on the network via SSDP

app:12019-07-25 11:55:02.066 am debugDiscovering Konnected devices on the network via SSDP

app:12019-07-25 11:50:02.079 am debugDiscovering Konnected devices on the network via SSDP

app:12019-07-25 11:45:02.062 am debugDiscovering Konnected devices on the network via SSDP

app:412019-07-25 11:40:02.313 am debugRefreshed attributes of device [deviceAddress:47ae, ssdpTerm:urn:schemas-konnected-io:device:Security:1, serialNumber:, hub:1, name:, verified:true, ssdpPath:/Device.xml, model:Konnected, ssdpUSN:uuid:8f655392-a778-4fee-97b9-48259189def3f:schemas-konnected-io:device:Security:1, networkAddress:C0A80113, mac:BCDDC29DEF3F, ssdpNTS:null]

app:422019-07-25 11:40:02.290 am debugRefreshed attributes of device [deviceAddress:47ad, ssdpTerm:urn:schemas-konnected-io:device:Security:1, serialNumber:, hub:1, name:, verified:true, ssdpPath:/Device.xml, model:Konnected, ssdpUSN:uuid:8f655392-a778-4fee-97b9-48259189dea7a:schemas-konnected-io:device:Security:1, networkAddress:C0A80103, mac:BCDDC29DEA7A, ssdpNTS:null]

app:442019-07-25 11:40:02.272 am debugRefreshed attributes of device [deviceAddress:2b88, ssdpTerm:urn:schemas-konnected-io:device:Security:1, serialNumber:, hub:1, name:, verified:true, ssdpPath:/Device.xml, model:Konnected, ssdpUSN:uuid:8f655392-a778-4fee-97b9-48259182ffa46:schemas-konnected-io:device:Security:1, networkAddress:C0A80105, mac:ECFABC2FFA46, ssdpNTS:null]

app:12019-07-25 11:40:02.094 am debugDiscovering Konnected devices on the network via SSDP

app:432019-07-25 11:35:02.484 am debugRefreshed attributes of device [deviceAddress:47ae, ssdpTerm:urn:schemas-konnected-io:device:Security:1, serialNumber:, hub:1, name:, verified:true, ssdpPath:/Device.xml, model:Konnected, ssdpUSN:uuid:8f655392-a778-4fee-97b9-48259189df136:schemas-konnected-io:device:Security:1, networkAddress:C0A80108, mac:BCDDC29DF136, ssdpNTS:null]

app:442019-07-25 11:35:02.467 am debugRefreshed attributes of device [deviceAddress:2b88, ssdpTerm:urn:schemas-konnected-io:device:Security:1, serialNumber:, hub:1, name:, verified:true, ssdpPath:/Device.xml, model:Konnected, ssdpUSN:uuid:8f655392-a778-4fee-97b9-48259182ffa46:schemas-konnected-io:device:Security:1, networkAddress:C0A80105, mac:ECFABC2FFA46, ssdpNTS:null]

app:412019-07-25 11:35:02.419 am debugRefreshed attributes of device [deviceAddress:47ae, ssdpTerm:urn:schemas-konnected-io:device:Security:1, serialNumber:, hub:1, name:, verified:true, ssdpPath:/Device.xml, model:Konnected, ssdpUSN:uuid:8f655392-a778-4fee-97b9-48259189def3f:schemas-konnected-io:device:Security:1, networkAddress:C0A80113, mac:BCDDC29DEF3F, ssdpNTS:null]

app:422019-07-25 11:35:02.364 am debugRefreshed attributes of device [deviceAddress:47ad, ssdpTerm:urn:schemas-konnected-io:device:Security:1, serialNumber:, hub:1, name:, verified:true, ssdpPath:/Device.xml, model:Konnected, ssdpUSN:uuid:8f655392-a778-4fee-97b9-48259189dea7a:schemas-konnected-io:device:Security:1, networkAddress:C0A80103, mac:BCDDC29DEA7A, ssdpNTS:null]

app:12019-07-25 11:35:02.104 am debugDiscovering Konnected devices on the network via SSDP

app:422019-07-25 11:30:02.492 am debugRefreshed attributes of device [deviceAddress:47ad, ssdpTerm:urn:schemas-konnected-io:device:Security:1, serialNumber:, hub:1, name:, verified:true, ssdpPath:/Device.xml, model:Konnected, ssdpUSN:uuid:8f655392-a778-4fee-97b9-48259189dea7a:schemas-konnected-io:device:Security:1, networkAddress:C0A80103, mac:BCDDC29DEA7A, ssdpNTS:null]

app:442019-07-25 11:30:02.464 am debugRefreshed attributes of device [deviceAddress:2b88, ssdpTerm:urn:schemas-konnected-io:device:Security:1, serialNumber:, hub:1, name:, verified:true, ssdpPath:/Device.xml, model:Konnected, ssdpUSN:uuid:8f655392-a778-4fee-97b9-48259182ffa46:schemas-konnected-io:device:Security:1, networkAddress:C0A80105, mac:ECFABC2FFA46, ssdpNTS:null]

app:432019-07-25 11:30:02.446 am debugRefreshed attributes of device [deviceAddress:47ae, ssdpTerm:urn:schemas-konnected-io:device:Security:1, serialNumber:, hub:1, name:, verified:true, ssdpPath:/Device.xml, model:Konnected, ssdpUSN:uuid:8f655392-a778-4fee-97b9-48259189df136:schemas-konnected-io:device:Security:1, networkAddress:C0A80108, mac:BCDDC29DF136, ssdpNTS:null]

app:412019-07-25 11:30:02.366 am debugRefreshed attributes of device [deviceAddress:47ae, ssdpTerm:urn:schemas-konnected-io:device:Security:1, serialNumber:, hub:1, name:, verified:true, ssdpPath:/Device.xml, model:Konnected, ssdpUSN:uuid:8f655392-a778-4fee-97b9-48259189def3f:schemas-konnected-io:device:Security:1, networkAddress:C0A80113, mac:BCDDC29DEF3F, ssdpNTS:null]

app:12019-07-25 11:30:02.100 am debugDiscovering Konnected devices on the network via SSDP

app:412019-07-25 11:25:02.647 am debugRefreshed attributes of device [deviceAddress:47ae, ssdpTerm:urn:schemas-konnected-io:device:Security:1, serialNumber:, hub:1, name:, verified:true, ssdpPath:/Device.xml, model:Konnected, ssdpUSN:uuid:8f655392-a778-4fee-97b9-48259189def3f:schemas-konnected-io:device:Security:1, networkAddress:C0A80113, mac:BCDDC29DEF3F, ssdpNTS:null]

app:432019-07-25 11:25:02.646 am debugRefreshed attributes of device [deviceAddress:47ae, ssdpTerm:urn:schemas-konnected-io:device:Security:1, serialNumber:, hub:1, name:, verified:true, ssdpPath:/Device.xml, model:Konnected, ssdpUSN:uuid:8f655392-a778-4fee-97b9-48259189df136:schemas-konnected-io:device:Security:1, networkAddress:C0A80108, mac:BCDDC29DF136, ssdpNTS:null]

app:442019-07-25 11:25:02.636 am debugRefreshed attributes of device [deviceAddress:2b88, ssdpTerm:urn:schemas-konnected-io:device:Security:1, serialNumber:, hub:1, name:, verified:true, ssdpPath:/Device.xml, model:Konnected, ssdpUSN:uuid:8f655392-a778-4fee-97b9-48259182ffa46:schemas-konnected-io:device:Security:1, networkAddress:C0A80105, mac:ECFABC2FFA46, ssdpNTS:null]

app:422019-07-25 11:25:02.539 am debugRefreshed attributes of device [deviceAddress:47ad, ssdpTerm:urn:schemas-konnected-io:device:Security:1, serialNumber:, hub:1, name:, verified:true, ssdpPath:/Device.xml, model:Konnected, ssdpUSN:uuid:8f655392-a778-4fee-97b9-48259189dea7a:schemas-konnected-io:device:Security:1, networkAddress:C0A80103, mac:BCDDC29DEA7A, ssdpNTS:null]

app:12019-07-25 11:25:02.091 am debugDiscovering Konnected devices on the network via SSDP

app:442019-07-25 11:20:02.626 am debugRefreshed attributes of device [deviceAddress:2b88, ssdpTerm:urn:schemas-konnected-io:device:Security:1, serialNumber:, hub:1, name:, verified:true, ssdpPath:/Device.xml, model:Konnected, ssdpUSN:uuid:8f655392-a778-4fee-97b9-48259182ffa46:schemas-konnected-io:device:Security:1, networkAddress:C0A80105, mac:ECFABC2FFA46, ssdpNTS:null]

app:422019-07-25 11:20:02.611 am debugRefreshed attributes of device [deviceAddress:47ad, ssdpTerm:urn:schemas-konnected-io:device:Security:1, serialNumber:, hub:1, name:, verified:true, ssdpPath:/Device.xml, model:Konnected, ssdpUSN:uuid:8f655392-a778-4fee-97b9-48259189dea7a:schemas-konnected-io:device:Security:1, networkAddress:C0A80103, mac:BCDDC29DEA7A, ssdpNTS:null]

app:412019-07-25 11:20:02.561 am debugRefreshed attributes of device [deviceAddress:47ae, ssdpTerm:urn:schemas-konnected-io:device:Security:1, serialNumber:, hub:1, name:, verified:true, ssdpPath:/Device.xml, model:Konnected, ssdpUSN:uuid:8f655392-a778-4fee-97b9-48259189def3f:schemas-konnected-io:device:Security:1, networkAddress:C0A80113, mac:BCDDC29DEF3F, ssdpNTS:null]

app:432019-07-25 11:20:02.478 am debugRefreshed attributes of device [deviceAddress:47ae, ssdpTerm:urn:schemas-konnected-io:device:Security:1, serialNumber:, hub:1, name:, verified:true, ssdpPath:/Device.xml, model:Konnected, ssdpUSN:uuid:8f655392-a778-4fee-97b9-48259189df136:schemas-konnected-io:device:Security:1, networkAddress:C0A80108, mac:BCDDC29DF136, ssdpNTS:null]

app:12019-07-25 11:20:02.075 am debugDiscovering Konnected devices on the network via SSDP

app:412019-07-25 11:15:02.535 am debugRefreshed attributes of device [deviceAddress:47ae, ssdpTerm:urn:schemas-konnected-io:device:Security:1, serialNumber:, hub:1, name:, verified:true, ssdpPath:/Device.xml, model:Konnected, ssdpUSN:uuid:8f655392-a778-4fee-97b9-48259189def3f:schemas-konnected-io:device:Security:1, networkAddress:C0A80113, mac:BCDDC29DEF3F, ssdpNTS:null]

app:422019-07-25 11:15:02.526 am debugRefreshed attributes of device [deviceAddress:47ad, ssdpTerm:urn:schemas-konnected-io:device:Security:1, serialNumber:, hub:1, name:, verified:true, ssdpPath:/Device.xml, model:Konnected, ssdpUSN:uuid:8f655392-a778-4fee-97b9-48259189dea7a:schemas-konnected-io:device:Security:1, networkAddress:C0A80103, mac:BCDDC29DEA7A, ssdpNTS:null]

app:442019-07-25 11:15:02.488 am debugRefreshed attributes of device [deviceAddress:2b88, ssdpTerm:urn:schemas-konnected-io:device:Security:1, serialNumber:, hub:1, name:, verified:true, ssdpPath:/Device.xml, model:Konnected, ssdpUSN:uuid:8f655392-a778-4fee-97b9-48259182ffa46:schemas-konnected-io:device:Security:1, networkAddress:C0A80105, mac:ECFABC2FFA46, ssdpNTS:null]

app:432019-07-25 11:15:02.451 am debugRefreshed attributes of device [deviceAddress:47ae, ssdpTerm:urn:schemas-konnected-io:device:Security:1, serialNumber:, hub:1, name:, verified:true, ssdpPath:/Device.xml, model:Konnected, ssdpUSN:uuid:8f655392-a778-4fee-97b9-48259189df136:schemas-konnected-io:device:Security:1, networkAddress:C0A80108, mac:BCDDC29DF136, ssdpNTS:null]

app:12019-07-25 11:15:02.105 am debugDiscovering Konnected devices on the network via SSDP

app:422019-07-25 11:10:02.506 am debugRefreshed attributes of device [deviceAddress:47ad, ssdpTerm:urn:schemas-konnected-io:device:Security:1, serialNumber:, hub:1, name:, verified:true, ssdpPath:/Device.xml, model:Konnected, ssdpUSN:uuid:8f655392-a778-4fee-97b9-48259189dea7a:schemas-konnected-io:device:Security:1, networkAddress:C0A80103, mac:BCDDC29DEA7A, ssdpNTS:null]

app:432019-07-25 11:10:02.496 am debugRefreshed attributes of device [deviceAddress:47ae, ssdpTerm:urn:schemas-konnected-io:device:Security:1, serialNumber:, hub:1, name:, verified:true, ssdpPath:/Device.xml, model:Konnected, ssdpUSN:uuid:8f655392-a778-4fee-97b9-48259189df136:schemas-konnected-io:device:Security:1, networkAddress:C0A80108, mac:BCDDC29DF136, ssdpNTS:null]

app:412019-07-25 11:10:02.465 am debugRefreshed attributes of device [deviceAddress:47ae, ssdpTerm:urn:schemas-konnected-io:device:Security:1, serialNumber:, hub:1, name:, verified:true, ssdpPath:/Device.xml, model:Konnected, ssdpUSN:uuid:8f655392-a778-4fee-97b9-48259189def3f:schemas-konnected-io:device:Security:1, networkAddress:C0A80113, mac:BCDDC29DEF3F, ssdpNTS:null]

app:442019-07-25 11:10:02.402 am debugRefreshed attributes of device [deviceAddress:2b88, ssdpTerm:urn:schemas-konnected-io:device:Security:1, serialNumber:, hub:1, name:, verified:true, ssdpPath:/Device.xml, model:Konnected, ssdpUSN:uuid:8f655392-a778-4fee-97b9-48259182ffa46:schemas-konnected-io:device:Security:1, networkAddress:C0A80105, mac:ECFABC2FFA46, ssdpNTS:null]

app:12019-07-25 11:10:02.092 am debugDiscovering Konnected devices on the network via SSDP

app:422019-07-25 11:05:02.450 am debugRefreshed attributes of device [deviceAddress:47ad, ssdpTerm:urn:schemas-konnected-io:device:Security:1, serialNumber:, hub:1, name:, verified:true, ssdpPath:/Device.xml, model:Konnected, ssdpUSN:uuid:8f655392-a778-4fee-97b9-48259189dea7a:schemas-konnected-io:device:Security:1, networkAddress:C0A80103, mac:BCDDC29DEA7A, ssdpNTS:null]

app:442019-07-25 11:05:02.411 am debugRefreshed attributes of device [deviceAddress:2b88, ssdpTerm:urn:schemas-konnected-io:device:Security:1, serialNumber:, hub:1, name:, verified:true, ssdpPath:/Device.xml, model:Konnected, ssdpUSN:uuid:8f655392-a778-4fee-97b9-48259182ffa46:schemas-konnected-io:device:Security:1, networkAddress:C0A80105, mac:ECFABC2FFA46, ssdpNTS:null]

app:432019-07-25 11:05:02.387 am debugRefreshed attributes of device [deviceAddress:47ae, ssdpTerm:urn:schemas-konnected-io:device:Security:1, serialNumber:, hub:1, name:, verified:true, ssdpPath:/Device.xml, model:Konnected, ssdpUSN:uuid:8f655392-a778-4fee-97b9-48259189df136:schemas-konnected-io:device:Security:1, networkAddress:C0A80108, mac:BCDDC29DF136, ssdpNTS:null]

app:412019-07-25 11:05:02.345 am debugRefreshed attributes of device [deviceAddress:47ae, ssdpTerm:urn:schemas-konnected-io:device:Security:1, serialNumber:, hub:1, name:, verified:true, ssdpPath:/Device.xml, model:Konnected, ssdpUSN:uuid:8f655392-a778-4fee-97b9-48259189def3f:schemas-konnected-io:device:Security:1, networkAddress:C0A80113, mac:BCDDC29DEF3F, ssdpNTS:null]

app:12019-07-25 11:05:02.103 am debugDiscovering Konnected devices on the network via SSDP

app:442019-07-25 11:00:02.651 am debugRefreshed attributes of device [deviceAddress:2b88, ssdpTerm:urn:schemas-konnected-io:device:Security:1, serialNumber:, hub:1, name:, verified:true, ssdpPath:/Device.xml, model:Konnected, ssdpUSN:uuid:8f655392-a778-4fee-97b9-48259182ffa46:schemas-konnected-io:device:Security:1, networkAddress:C0A80105, mac:ECFABC2FFA46, ssdpNTS:null]

app:412019-07-25 11:00:02.613 am debugRefreshed attributes of device [deviceAddress:47ae, ssdpTerm:urn:schemas-konnected-io:device:Security:1, serialNumber:, hub:1, name:, verified:true, ssdpPath:/Device.xml, model:Konnected, ssdpUSN:uuid:8f655392-a778-4fee-97b9-48259189def3f:schemas-konnected-io:device:Security:1, networkAddress:C0A80113, mac:BCDDC29DEF3F, ssdpNTS:null]

app:432019-07-25 11:00:02.579 am debugRefreshed attributes of device [deviceAddress:47ae, ssdpTerm:urn:schemas-konnected-io:device:Security:1, serialNumber:, hub:1, name:, verified:true, ssdpPath:/Device.xml, model:Konnected, ssdpUSN:uuid:8f655392-a778-4fee-97b9-48259189df136:schemas-konnected-io:device:Security:1, networkAddress:C0A80108, mac:BCDDC29DF136, ssdpNTS:null]

app:422019-07-25 11:00:02.568 am debugRefreshed attributes of device [deviceAddress:47ad, ssdpTerm:urn:schemas-konnected-io:device:Security:1, serialNumber:, hub:1, name:, verified:true, ssdpPath:/Device.xml, model:Konnected, ssdpUSN:uuid:8f655392-a778-4fee-97b9-48259189dea7a:schemas-konnected-io:device:Security:1, networkAddress:C0A80103, mac:BCDDC29DEA7A, ssdpNTS:null]

app:12019-07-25 11:00:02.084 am debugDiscovering Konnected devices on the network via SSDP

app:422019-07-25 10:55:02.553 am debugRefreshed attributes of device [deviceAddress:47ad, ssdpTerm:urn:schemas-konnected-io:device:Security:1, serialNumber:, hub:1, name:, verified:true, ssdpPath:/Device.xml, model:Konnected, ssdpUSN:uuid:8f655392-a778-4fee-97b9-48259189dea7a:schemas-konnected-io:device:Security:1, networkAddress:C0A80103, mac:BCDDC29DEA7A, ssdpNTS:null]

app:442019-07-25 10:55:02.547 am debugRefreshed attributes of device [deviceAddress:2b88, ssdpTerm:urn:schemas-konnected-io:device:Security:1, serialNumber:, hub:1, name:, verified:true, ssdpPath:/Device.xml, model:Konnected, ssdpUSN:uuid:8f655392-a778-4fee-97b9-48259182ffa46:schemas-konnected-io:device:Security:1, networkAddress:C0A80105, mac:ECFABC2FFA46, ssdpNTS:null]

app:412019-07-25 10:55:02.541 am debugRefreshed attributes of device [deviceAddress:47ae, ssdpTerm:urn:schemas-konnected-io:device:Security:1, serialNumber:, hub:1, name:, verified:true, ssdpPath:/Device.xml, model:Konnected, ssdpUSN:uuid:8f655392-a778-4fee-97b9-48259189def3f:schemas-konnected-io:device:Security:1, networkAddress:C0A80113, mac:BCDDC29DEF3F, ssdpNTS:null]

app:432019-07-25 10:55:02.447 am debugRefreshed attributes of device [deviceAddress:47ae, ssdpTerm:urn:schemas-konnected-io:device:Security:1, serialNumber:, hub:1, name:, verified:true, ssdpPath:/Device.xml, model:Konnected, ssdpUSN:uuid:8f655392-a778-4fee-97b9-48259189df136:schemas-konnected-io:device:Security:1, networkAddress:C0A80108, mac:BCDDC29DF136, ssdpNTS:null]

app:12019-07-25 10:55:02.096 am debugDiscovering Konnected devices on the network via SSDP

app:442019-07-25 10:50:02.564 am debugRefreshed attributes of device [deviceAddress:2b88, ssdpTerm:urn:schemas-konnected-io:device:Security:1, serialNumber:, hub:1, name:, verified:true, ssdpPath:/Device.xml, model:Konnected, ssdpUSN:uuid:8f655392-a778-4fee-97b9-48259182ffa46:schemas-konnected-io:device:Security:1, networkAddress:C0A80105, mac:ECFABC2FFA46, ssdpNTS:null]

app:422019-07-25 10:50:02.563 am debugRefreshed attributes of device [deviceAddress:47ad, ssdpTerm:urn:schemas-konnected-io:device:Security:1, serialNumber:, hub:1, name:, verified:true, ssdpPath:/Device.xml, model:Konnected, ssdpUSN:uuid:8f655392-a778-4fee-97b9-48259189dea7a:schemas-konnected-io:device:Security:1, networkAddress:C0A80103, mac:BCDDC29DEA7A, ssdpNTS:null]

app:432019-07-25 10:50:02.536 am debugRefreshed attributes of device [deviceAddress:47ae, ssdpTerm:urn:schemas-konnected-io:device:Security:1, serialNumber:, hub:1, name:, verified:true, ssdpPath:/Device.xml, model:Konnected, ssdpUSN:uuid:8f655392-a778-4fee-97b9-48259189df136:schemas-konnected-io:device:Security:1, networkAddress:C0A80108, mac:BCDDC29DF136, ssdpNTS:null]

app:412019-07-25 10:50:02.494 am debugRefreshed attributes of device [deviceAddress:47ae, ssdpTerm:urn:schemas-konnected-io:device:Security:1, serialNumber:, hub:1, name:, verified:true, ssdpPath:/Device.xml, model:Konnected, ssdpUSN:uuid:8f655392-a778-4fee-97b9-48259189def3f:schemas-konnected-io:device:Security:1, networkAddress:C0A80113, mac:BCDDC29DEF3F, ssdpNTS:null]

app:12019-07-25 10:50:02.064 am debugDiscovering Konnected devices on the network via SSDP

app:432019-07-25 10:45:02.476 am debugRefreshed attributes of device [deviceAddress:47ae, ssdpTerm:urn:schemas-konnected-io:device:Security:1, serialNumber:, hub:1, name:, verified:true, ssdpPath:/Device.xml, model:Konnected, ssdpUSN:uuid:8f655392-a778-4fee-97b9-48259189df136:schemas-konnected-io:device:Security:1, networkAddress:C0A80108, mac:BCDDC29DF136, ssdpNTS:null]

app:412019-07-25 10:45:02.472 am debugRefreshed attributes of device [deviceAddress:47ae, ssdpTerm:urn:schemas-konnected-io:device:Security:1, serialNumber:, hub:1, name:, verified:true, ssdpPath:/Device.xml, model:Konnected, ssdpUSN:uuid:8f655392-a778-4fee-97b9-48259189def3f:schemas-konnected-io:device:Security:1, networkAddress:C0A80113, mac:BCDDC29DEF3F, ssdpNTS:null]

app:442019-07-25 10:45:02.436 am debugRefreshed attributes of device [deviceAddress:2b88, ssdpTerm:urn:schemas-konnected-io:device:Security:1, serialNumber:, hub:1, name:, verified:true, ssdpPath:/Device.xml, model:Konnected, ssdpUSN:uuid:8f655392-a778-4fee-97b9-48259182ffa46:schemas-konnected-io:device:Security:1, networkAddress:C0A80105, mac:ECFABC2FFA46, ssdpNTS:null]

app:422019-07-25 10:45:02.336 am debugRefreshed attributes of device [deviceAddress:47ad, ssdpTerm:urn:schemas-konnected-io:device:Security:1, serialNumber:, hub:1, name:, verified:true, ssdpPath:/Device.xml, model:Konnected, ssdpUSN:uuid:8f655392-a778-4fee-97b9-48259189dea7a:schemas-konnected-io:device:Security:1, networkAddress:C0A80103, mac:BCDDC29DEA7A, ssdpNTS:null]

app:12019-07-25 10:45:02.084 am debugDiscovering Konnected devices on the network via SSDP

app:412019-07-25 10:40:02.466 am debugRefreshed attributes of device [deviceAddress:47ae, ssdpTerm:urn:schemas-konnected-io:device:Security:1, serialNumber:, hub:1, name:, verified:true, ssdpPath:/Device.xml, model:Konnected, ssdpUSN:uuid:8f655392-a778-4fee-97b9-48259189def3f:schemas-konnected-io:device:Security:1, networkAddress:C0A80113, mac:BCDDC29DEF3F, ssdpNTS:null]

app:422019-07-25 10:40:02.446 am debugRefreshed attributes of device [deviceAddress:47ad, ssdpTerm:urn:schemas-konnected-io:device:Security:1, serialNumber:, hub:1, name:, verified:true, ssdpPath:/Device.xml, model:Konnected, ssdpUSN:uuid:8f655392-a778-4fee-97b9-48259189dea7a:schemas-konnected-io:device:Security:1, networkAddress:C0A80103, mac:BCDDC29DEA7A, ssdpNTS:null]

app:442019-07-25 10:40:02.438 am debugRefreshed attributes of device [deviceAddress:2b88, ssdpTerm:urn:schemas-konnected-io:device:Security:1, serialNumber:, hub:1, name:, verified:true, ssdpPath:/Device.xml, model:Konnected, ssdpUSN:uuid:8f655392-a778-4fee-97b9-48259182ffa46:schemas-konnected-io:device:Security:1, networkAddress:C0A80105, mac:ECFABC2FFA46, ssdpNTS:null]

app:432019-07-25 10:40:02.374 am debugRefreshed attributes of device [deviceAddress:47ae, ssdpTerm:urn:schemas-konnected-io:device:Security:1, serialNumber:, hub:1, name:, verified:true, ssdpPath:/Device.xml, model:Konnected, ssdpUSN:uuid:8f655392-a778-4fee-97b9-48259189df136:schemas-konnected-io:device:Security:1, networkAddress:C0A80108, mac:BCDDC29DF136, ssdpNTS:null]

app:12019-07-25 10:40:02.083 am debugDiscovering Konnected devices on the network via SSDP

app:442019-07-25 10:35:02.395 am debugRefreshed attributes of device [deviceAddress:2b88, ssdpTerm:urn:schemas-konnected-io:device:Security:1, serialNumber:, hub:1, name:, verified:true, ssdpPath:/Device.xml, model:Konnected, ssdpUSN:uuid:8f655392-a778-4fee-97b9-48259182ffa46:schemas-konnected-io:device:Security:1, networkAddress:C0A80105, mac:ECFABC2FFA46, ssdpNTS:null]

app:422019-07-25 10:35:02.380 am debugRefreshed attributes of device [deviceAddress:47ad, ssdpTerm:urn:schemas-konnected-io:device:Security:1, serialNumber:, hub:1, name:, verified:true, ssdpPath:/Device.xml, model:Konnected, ssdpUSN:uuid:8f655392-a778-4fee-97b9-48259189dea7a:schemas-konnected-io:device:Security:1, networkAddress:C0A80103, mac:BCDDC29DEA7A, ssdpNTS:null]

app:432019-07-25 10:35:02.301 am debugRefreshed attributes of device [deviceAddress:47ae, ssdpTerm:urn:schemas-konnected-io:device:Security:1, serialNumber:, hub:1, name:, verified:true, ssdpPath:/Device.xml, model:Konnected, ssdpUSN:uuid:8f655392-a778-4fee-97b9-48259189df136:schemas-konnected-io:device:Security:1, networkAddress:C0A80108, mac:BCDDC29DF136, ssdpNTS:null]

app:412019-07-25 10:35:02.280 am debugRefreshed attributes of device [deviceAddress:47ae, ssdpTerm:urn:schemas-konnected-io:device:Security:1, serialNumber:, hub:1, name:, verified:true, ssdpPath:/Device.xml, model:Konnected, ssdpUSN:uuid:8f655392-a778-4fee-97b9-48259189def3f:schemas-konnected-io:device:Security:1, networkAddress:C0A80113, mac:BCDDC29DEF3F, ssdpNTS:null]

app:12019-07-25 10:35:02.079 am debugDiscovering Konnected devices on the network via SSDP

app:432019-07-25 10:30:02.540 am debugRefreshed attributes of device [deviceAddress:47ae, ssdpTerm:urn:schemas-konnected-io:device:Security:1, serialNumber:, hub:1, name:, verified:true, ssdpPath:/Device.xml, model:Konnected, ssdpUSN:uuid:8f655392-a778-4fee-97b9-48259189df136:schemas-konnected-io:device:Security:1, networkAddress:C0A80108, mac:BCDDC29DF136, ssdpNTS:null]

app:442019-07-25 10:30:02.518 am debugRefreshed attributes of device [deviceAddress:2b88, ssdpTerm:urn:schemas-konnected-io:device:Security:1, serialNumber:, hub:1, name:, verified:true, ssdpPath:/Device.xml, model:Konnected, ssdpUSN:uuid:8f655392-a778-4fee-97b9-48259182ffa46:schemas-konnected-io:device:Security:1, networkAddress:C0A80105, mac:ECFABC2FFA46, ssdpNTS:null]

app:412019-07-25 10:30:02.507 am debugRefreshed attributes of device [deviceAddress:47ae, ssdpTerm:urn:schemas-konnected-io:device:Security:1, serialNumber:, hub:1, name:, verified:true, ssdpPath:/Device.xml, model:Konnected, ssdpUSN:uuid:8f655392-a778-4fee-97b9-48259189def3f:schemas-konnected-io:device:Security:1, networkAddress:C0A80113, mac:BCDDC29DEF3F, ssdpNTS:null]

app:422019-07-25 10:30:02.444 am debugRefreshed attributes of device [deviceAddress:47ad, ssdpTerm:urn:schemas-konnected-io:device:Security:1, serialNumber:, hub:1, name:, verified:true, ssdpPath:/Device.xml, model:Konnected, ssdpUSN:uuid:8f655392-a778-4fee-97b9-48259189dea7a:schemas-konnected-io:device:Security:1, networkAddress:C0A80103, mac:BCDDC29DEA7A, ssdpNTS:null]

app:12019-07-25 10:30:02.094 am debugDiscovering Konnected devices on the network via SSDP

app:422019-07-25 10:25:02.579 am debugRefreshed attributes of device [deviceAddress:47ad, ssdpTerm:urn:schemas-konnected-io:device:Security:1, serialNumber:, hub:1, name:, verified:true, ssdpPath:/Device.xml, model:Konnected, ssdpUSN:uuid:8f655392-a778-4fee-97b9-48259189dea7a:schemas-konnected-io:device:Security:1, networkAddress:C0A80103, mac:BCDDC29DEA7A, ssdpNTS:null]

app:432019-07-25 10:25:02.570 am debugRefreshed attributes of device [deviceAddress:47ae, ssdpTerm:urn:schemas-konnected-io:device:Security:1, serialNumber:, hub:1, name:, verified:true, ssdpPath:/Device.xml, model:Konnected, ssdpUSN:uuid:8f655392-a778-4fee-97b9-48259189df136:schemas-konnected-io:device:Security:1, networkAddress:C0A80108, mac:BCDDC29DF136, ssdpNTS:null]

app:442019-07-25 10:25:02.533 am debugRefreshed attributes of device [deviceAddress:2b88, ssdpTerm:urn:schemas-konnected-io:device:Security:1, serialNumber:, hub:1, name:, verified:true, ssdpPath:/Device.xml, model:Konnected, ssdpUSN:uuid:8f655392-a778-4fee-97b9-48259182ffa46:schemas-konnected-io:device:Security:1, networkAddress:C0A80105, mac:ECFABC2FFA46, ssdpNTS:null]

app:412019-07-25 10:25:02.528 am debugRefreshed attributes of device [deviceAddress:47ae, ssdpTerm:urn:schemas-konnected-io:device:Security:1, serialNumber:, hub:1, name:, verified:true, ssdpPath:/Device.xml, model:Konnected, ssdpUSN:uuid:8f655392-a778-4fee-97b9-48259189def3f:schemas-konnected-io:device:Security:1, networkAddress:C0A80113, mac:BCDDC29DEF3F, ssdpNTS:null]

app:12019-07-25 10:25:02.075 am debugDiscovering Konnected devices on the network via SSDP

app:442019-07-25 10:20:02.531 am debugRefreshed attributes of device [deviceAddress:2b88, ssdpTerm:urn:schemas-konnected-io:device:Security:1, serialNumber:, hub:1, name:, verified:true, ssdpPath:/Device.xml, model:Konnected, ssdpUSN:uuid:8f655392-a778-4fee-97b9-48259182ffa46:schemas-konnected-io:device:Security:1, networkAddress:C0A80105, mac:ECFABC2FFA46, ssdpNTS:null]

app:422019-07-25 10:20:02.525 am debugRefreshed attributes of device [deviceAddress:47ad, ssdpTerm:urn:schemas-konnected-io:device:Security:1, serialNumber:, hub:1, name:, verified:true, ssdpPath:/Device.xml, model:Konnected, ssdpUSN:uuid:8f655392-a778-4fee-97b9-48259189dea7a:schemas-konnected-io:device:Security:1, networkAddress:C0A80103, mac:BCDDC29DEA7A, ssdpNTS:null]

app:412019-07-25 10:20:02.493 am debugRefreshed attributes of device [deviceAddress:47ae, ssdpTerm:urn:schemas-konnected-io:device:Security:1, serialNumber:, hub:1, name:, verified:true, ssdpPath:/Device.xml, model:Konnected, ssdpUSN:uuid:8f655392-a778-4fee-97b9-48259189def3f:schemas-konnected-io:device:Security:1, networkAddress:C0A80113, mac:BCDDC29DEF3F, ssdpNTS:null]

app:432019-07-25 10:20:02.421 am debugRefreshed attributes of device [deviceAddress:47ae, ssdpTerm:urn:schemas-konnected-io:device:Security:1, serialNumber:, hub:1, name:, verified:true, ssdpPath:/Device.xml, model:Konnected, ssdpUSN:uuid:8f655392-a778-4fee-97b9-48259189df136:schemas-konnected-io:device:Security:1, networkAddress:C0A80108, mac:BCDDC29DF136, ssdpNTS:null]

app:12019-07-25 10:20:02.111 am debugDiscovering Konnected devices on the network via SSDP

app:12019-07-25 10:15:02.062 am debugDiscovering Konnected devices on the network via SSDP

app:442019-07-25 10:10:02.438 am debugRefreshed attributes of device [deviceAddress:2b88, ssdpTerm:urn:schemas-konnected-io:device:Security:1, serialNumber:, hub:1, name:, verified:true, ssdpPath:/Device.xml, model:Konnected, ssdpUSN:uuid:8f655392-a778-4fee-97b9-48259182ffa46:schemas-konnected-io:device:Security:1, networkAddress:C0A80105, mac:ECFABC2FFA46, ssdpNTS:null]

app:412019-07-25 10:10:02.426 am debugRefreshed attributes of device [deviceAddress:47ae, ssdpTerm:urn:schemas-konnected-io:device:Security:1, serialNumber:, hub:1, name:, verified:true, ssdpPath:/Device.xml, model:Konnected, ssdpUSN:uuid:8f655392-a778-4fee-97b9-48259189def3f:schemas-konnected-io:device:Security:1, networkAddress:C0A80113, mac:BCDDC29DEF3F, ssdpNTS:null]

app:432019-07-25 10:10:02.419 am debugRefreshed attributes of device [deviceAddress:47ae, ssdpTerm:urn:schemas-konnected-io:device:Security:1, serialNumber:, hub:1, name:, verified:true, ssdpPath:/Device.xml, model:Konnected, ssdpUSN:uuid:8f655392-a778-4fee-97b9-48259189df136:schemas-konnected-io:device:Security:1, networkAddress:C0A80108, mac:BCDDC29DF136, ssdpNTS:null]

app:422019-07-25 10:10:02.313 am debugRefreshed attributes of device [deviceAddress:47ad, ssdpTerm:urn:schemas-konnected-io:device:Security:1, serialNumber:, hub:1, name:, verified:true, ssdpPath:/Device.xml, model:Konnected, ssdpUSN:uuid:8f655392-a778-4fee-97b9-48259189dea7a:schemas-konnected-io:device:Security:1, networkAddress:C0A80103, mac:BCDDC29DEA7A, ssdpNTS:null]

app:12019-07-25 10:10:02.063 am debugDiscovering Konnected devices on the network via SSDP

app:432019-07-25 10:05:02.591 am debugRefreshed attributes of device [deviceAddress:47ae, ssdpTerm:urn:schemas-konnected-io:device:Security:1, serialNumber:, hub:1, name:, verified:true, ssdpPath:/Device.xml, model:Konnected, ssdpUSN:uuid:8f655392-a778-4fee-97b9-48259189df136:schemas-konnected-io:device:Security:1, networkAddress:C0A80108, mac:BCDDC29DF136, ssdpNTS:null]

app:442019-07-25 10:05:02.549 am debugRefreshed attributes of device [deviceAddress:2b88, ssdpTerm:urn:schemas-konnected-io:device:Security:1, serialNumber:, hub:1, name:, verified:true, ssdpPath:/Device.xml, model:Konnected, ssdpUSN:uuid:8f655392-a778-4fee-97b9-48259182ffa46:schemas-konnected-io:device:Security:1, networkAddress:C0A80105, mac:ECFABC2FFA46, ssdpNTS:null]

app:412019-07-25 10:05:02.536 am debugRefreshed attributes of device [deviceAddress:47ae, ssdpTerm:urn:schemas-konnected-io:device:Security:1, serialNumber:, hub:1, name:, verified:true, ssdpPath:/Device.xml, model:Konnected, ssdpUSN:uuid:8f655392-a778-4fee-97b9-48259189def3f:schemas-konnected-io:device:Security:1, networkAddress:C0A80113, mac:BCDDC29DEF3F, ssdpNTS:null]

app:422019-07-25 10:05:02.515 am debugRefreshed attributes of device [deviceAddress:47ad, ssdpTerm:urn:schemas-konnected-io:device:Security:1, serialNumber:, hub:1, name:, verified:true, ssdpPath:/Device.xml, model:Konnected, ssdpUSN:uuid:8f655392-a778-4fee-97b9-48259189dea7a:schemas-konnected-io:device:Security:1, networkAddress:C0A80103, mac:BCDDC29DEA7A, ssdpNTS:null]

app:12019-07-25 10:05:02.103 am debugDiscovering Konnected devices on the network via SSDP

app:442019-07-25 10:00:02.581 am debugRefreshed attributes of device [deviceAddress:2b88, ssdpTerm:urn:schemas-konnected-io:device:Security:1, serialNumber:, hub:1, name:, verified:true, ssdpPath:/Device.xml, model:Konnected, ssdpUSN:uuid:8f655392-a778-4fee-97b9-48259182ffa46:schemas-konnected-io:device:Security:1, networkAddress:C0A80105, mac:ECFABC2FFA46, ssdpNTS:null]

app:422019-07-25 10:00:02.572 am debugRefreshed attributes of device [deviceAddress:47ad, ssdpTerm:urn:schemas-konnected-io:device:Security:1, serialNumber:, hub:1, name:, verified:true, ssdpPath:/Device.xml, model:Konnected, ssdpUSN:uuid:8f655392-a778-4fee-97b9-48259189dea7a:schemas-konnected-io:device:Security:1, networkAddress:C0A80103, mac:BCDDC29DEA7A, ssdpNTS:null]

app:412019-07-25 10:00:02.560 am debugRefreshed attributes of device [deviceAddress:47ae, ssdpTerm:urn:schemas-konnected-io:device:Security:1, serialNumber:, hub:1, name:, verified:true, ssdpPath:/Device.xml, model:Konnected, ssdpUSN:uuid:8f655392-a778-4fee-97b9-48259189def3f:schemas-konnected-io:device:Security:1, networkAddress:C0A80113, mac:BCDDC29DEF3F, ssdpNTS:null]

app:432019-07-25 10:00:02.443 am debugRefreshed attributes of device [deviceAddress:47ae, ssdpTerm:urn:schemas-konnected-io:device:Security:1, serialNumber:, hub:1, name:, verified:true, ssdpPath:/Device.xml, model:Konnected, ssdpUSN:uuid:8f655392-a778-4fee-97b9-48259189df136:schemas-konnected-io:device:Security:1, networkAddress:C0A80108, mac:BCDDC29DF136, ssdpNTS:null]

app:12019-07-25 10:00:02.059 am debugDiscovering Konnected devices on the network via SSDP

app:432019-07-25 09:55:02.530 am debugRefreshed attributes of device [deviceAddress:47ae, ssdpTerm:urn:schemas-konnected-io:device:Security:1, serialNumber:, hub:1, name:, verified:true, ssdpPath:/Device.xml, model:Konnected, ssdpUSN:uuid:8f655392-a778-4fee-97b9-48259189df136:schemas-konnected-io:device:Security:1, networkAddress:C0A80108, mac:BCDDC29DF136, ssdpNTS:null]

app:422019-07-25 09:55:02.495 am debugRefreshed attributes of device [deviceAddress:47ad, ssdpTerm:urn:schemas-konnected-io:device:Security:1, serialNumber:, hub:1, name:, verified:true, ssdpPath:/Device.xml, model:Konnected, ssdpUSN:uuid:8f655392-a778-4fee-97b9-48259189dea7a:schemas-konnected-io:device:Security:1, networkAddress:C0A80103, mac:BCDDC29DEA7A, ssdpNTS:null]

app:442019-07-25 09:55:02.482 am debugRefreshed attributes of device [deviceAddress:2b88, ssdpTerm:urn:schemas-konnected-io:device:Security:1, serialNumber:, hub:1, name:, verified:true, ssdpPath:/Device.xml, model:Konnected, ssdpUSN:uuid:8f655392-a778-4fee-97b9-48259182ffa46:schemas-konnected-io:device:Security:1, networkAddress:C0A80105, mac:ECFABC2FFA46, ssdpNTS:null]

app:412019-07-25 09:55:02.460 am debugRefreshed attributes of device [deviceAddress:47ae, ssdpTerm:urn:schemas-konnected-io:device:Security:1, serialNumber:, hub:1, name:, verified:true, ssdpPath:/Device.xml, model:Konnected, ssdpUSN:uuid:8f655392-a778-4fee-97b9-48259189def3f:schemas-konnected-io:device:Security:1, networkAddress:C0A80113, mac:BCDDC29DEF3F, ssdpNTS:null]

app:12019-07-25 09:55:02.106 am debugDiscovering Konnected devices on the network via SSDP

app:432019-07-25 09:50:02.513 am debugRefreshed attributes of device [deviceAddress:47ae, ssdpTerm:urn:schemas-konnected-io:device:Security:1, serialNumber:, hub:1, name:, verified:true, ssdpPath:/Device.xml, model:Konnected, ssdpUSN:uuid:8f655392-a778-4fee-97b9-48259189df136:schemas-konnected-io:device:Security:1, networkAddress:C0A80108, mac:BCDDC29DF136, ssdpNTS:null]

app:422019-07-25 09:50:02.489 am debugRefreshed attributes of device [deviceAddress:47ad, ssdpTerm:urn:schemas-konnected-io:device:Security:1, serialNumber:, hub:1, name:, verified:true, ssdpPath:/Device.xml, model:Konnected, ssdpUSN:uuid:8f655392-a778-4fee-97b9-48259189dea7a:schemas-konnected-io:device:Security:1, networkAddress:C0A80103, mac:BCDDC29DEA7A, ssdpNTS:null]

app:442019-07-25 09:50:02.482 am debugRefreshed attributes of device [deviceAddress:2b88, ssdpTerm:urn:schemas-konnected-io:device:Security:1, serialNumber:, hub:1, name:, verified:true, ssdpPath:/Device.xml, model:Konnected, ssdpUSN:uuid:8f655392-a778-4fee-97b9-48259182ffa46:schemas-konnected-io:device:Security:1, networkAddress:C0A80105, mac:ECFABC2FFA46, ssdpNTS:null]

app:412019-07-25 09:50:02.461 am debugRefreshed attributes of device [deviceAddress:47ae, ssdpTerm:urn:schemas-konnected-io:device:Security:1, serialNumber:, hub:1, name:, verified:true, ssdpPath:/Device.xml, model:Konnected, ssdpUSN:uuid:8f655392-a778-4fee-97b9-48259189def3f:schemas-konnected-io:device:Security:1, networkAddress:C0A80113, mac:BCDDC29DEF3F, ssdpNTS:null]

app:12019-07-25 09:50:02.063 am debugDiscovering Konnected devices on the network via SSDP

app:412019-07-25 09:45:02.460 am debugRefreshed attributes of device [deviceAddress:47ae, ssdpTerm:urn:schemas-konnected-io:device:Security:1, serialNumber:, hub:1, name:, verified:true, ssdpPath:/Device.xml, model:Konnected, ssdpUSN:uuid:8f655392-a778-4fee-97b9-48259189def3f:schemas-konnected-io:device:Security:1, networkAddress:C0A80113, mac:BCDDC29DEF3F, ssdpNTS:null]

app:422019-07-25 09:45:02.456 am debugRefreshed attributes of device [deviceAddress:47ad, ssdpTerm:urn:schemas-konnected-io:device:Security:1, serialNumber:, hub:1, name:, verified:true, ssdpPath:/Device.xml, model:Konnected, ssdpUSN:uuid:8f655392-a778-4fee-97b9-48259189dea7a:schemas-konnected-io:device:Security:1, networkAddress:C0A80103, mac:BCDDC29DEA7A, ssdpNTS:null]

app:442019-07-25 09:45:02.411 am debugRefreshed attributes of device [deviceAddress:2b88, ssdpTerm:urn:schemas-konnected-io:device:Security:1, serialNumber:, hub:1, name:, verified:true, ssdpPath:/Device.xml, model:Konnected, ssdpUSN:uuid:8f655392-a778-4fee-97b9-48259182ffa46:schemas-konnected-io:device:Security:1, networkAddress:C0A80105, mac:ECFABC2FFA46, ssdpNTS:null]

app:432019-07-25 09:45:02.382 am debugRefreshed attributes of device [deviceAddress:47ae, ssdpTerm:urn:schemas-konnected-io:device:Security:1, serialNumber:, hub:1, name:, verified:true, ssdpPath:/Device.xml, model:Konnected, ssdpUSN:uuid:8f655392-a778-4fee-97b9-48259189df136:schemas-konnected-io:device:Security:1, networkAddress:C0A80108, mac:BCDDC29DF136, ssdpNTS:null]

app:12019-07-25 09:45:02.086 am debugDiscovering Konnected devices on the network via SSDP

app:442019-07-25 09:40:02.711 am debugRefreshed attributes of device [deviceAddress:2b88, ssdpTerm:urn:schemas-konnected-io:device:Security:1, serialNumber:, hub:1, name:, verified:true, ssdpPath:/Device.xml, model:Konnected, ssdpUSN:uuid:8f655392-a778-4fee-97b9-48259182ffa46:schemas-konnected-io:device:Security:1, networkAddress:C0A80105, mac:ECFABC2FFA46, ssdpNTS:null]

app:412019-07-25 09:40:02.688 am debugRefreshed attributes of device [deviceAddress:47ae, ssdpTerm:urn:schemas-konnected-io:device:Security:1, serialNumber:, hub:1, name:, verified:true, ssdpPath:/Device.xml, model:Konnected, ssdpUSN:uuid:8f655392-a778-4fee-97b9-48259189def3f:schemas-konnected-io:device:Security:1, networkAddress:C0A80113, mac:BCDDC29DEF3F, ssdpNTS:null]

app:432019-07-25 09:40:02.635 am debugRefreshed attributes of device [deviceAddress:47ae, ssdpTerm:urn:schemas-konnected-io:device:Security:1, serialNumber:, hub:1, name:, verified:true, ssdpPath:/Device.xml, model:Konnected, ssdpUSN:uuid:8f655392-a778-4fee-97b9-48259189df136:schemas-konnected-io:device:Security:1, networkAddress:C0A80108, mac:BCDDC29DF136, ssdpNTS:null]

app:422019-07-25 09:40:02.589 am debugRefreshed attributes of device [deviceAddress:47ad, ssdpTerm:urn:schemas-konnected-io:device:Security:1, serialNumber:, hub:1, name:, verified:true, ssdpPath:/Device.xml, model:Konnected, ssdpUSN:uuid:8f655392-a778-4fee-97b9-48259189dea7a:schemas-konnected-io:device:Security:1, networkAddress:C0A80103, mac:BCDDC29DEA7A, ssdpNTS:null]

app:12019-07-25 09:40:02.107 am debugDiscovering Konnected devices on the network via SSDP

app:422019-07-25 09:35:02.567 am debugRefreshed attributes of device [deviceAddress:47ad, ssdpTerm:urn:schemas-konnected-io:device:Security:1, serialNumber:, hub:1, name:, verified:true, ssdpPath:/Device.xml, model:Konnected, ssdpUSN:uuid:8f655392-a778-4fee-97b9-48259189dea7a:schemas-konnected-io:device:Security:1, networkAddress:C0A80103, mac:BCDDC29DEA7A, ssdpNTS:null]

app:412019-07-25 09:35:02.507 am debugRefreshed attributes of device [deviceAddress:47ae, ssdpTerm:urn:schemas-konnected-io:device:Security:1, serialNumber:, hub:1, name:, verified:true, ssdpPath:/Device.xml, model:Konnected, ssdpUSN:uuid:8f655392-a778-4fee-97b9-48259189def3f:schemas-konnected-io:device:Security:1, networkAddress:C0A80113, mac:BCDDC29DEF3F, ssdpNTS:null]

app:432019-07-25 09:35:02.517 am debugRefreshed attributes of device [deviceAddress:47ae, ssdpTerm:urn:schemas-konnected-io:device:Security:1, serialNumber:, hub:1, name:, verified:true, ssdpPath:/Device.xml, model:Konnected, ssdpUSN:uuid:8f655392-a778-4fee-97b9-48259189df136:schemas-konnected-io:device:Security:1, networkAddress:C0A80108, mac:BCDDC29DF136, ssdpNTS:null]

app:12019-07-25 09:35:02.068 am debugDiscovering Konnected devices on the network via SSDP

dev:182019-07-25 09:30:04.430 am debugMike's Garage to House Door is closed

app:432019-07-25 09:30:04.418 am debugReceived sensor update from Konnected device: BCDDC29DF136|5 = 0

dev:172019-07-25 09:30:04.057 am debugFamily Room Motion Detector is inactive

app:432019-07-25 09:30:04.037 am debugReceived sensor update from Konnected device: BCDDC29DF136|6 = 0

dev:162019-07-25 09:30:03.656 am debugFront Door is closed

app:432019-07-25 09:30:03.645 am debugReceived sensor update from Konnected device: BCDDC29DF136|1 = 0

dev:152019-07-25 09:30:03.250 am debugAmbia's Garage to House Door is closed

app:432019-07-25 09:30:03.239 am debugReceived sensor update from Konnected device: BCDDC29DF136|2 = 0

dev:142019-07-25 09:30:02.920 am debugMaster Bedroom to Lanai Door is closed

app:432019-07-25 09:30:02.908 am debugReceived sensor update from Konnected device: BCDDC29DF136|9 = 0

dev:132019-07-25 09:30:02.569 am debugCO detector by Nook is clear

app:442019-07-25 09:30:02.556 am debugRefreshed attributes of device [deviceAddress:2b88, ssdpTerm:urn:schemas-konnected-io:device:Security:1, serialNumber:, hub:1, name:, verified:true, ssdpPath:/Device.xml, model:Konnected, ssdpUSN:uuid:8f655392-a778-4fee-97b9-48259182ffa46:schemas-konnected-io:device:Security:1, networkAddress:C0A80105, mac:ECFABC2FFA46, ssdpNTS:null]

app:432019-07-25 09:30:02.547 am debugReceived sensor update from Konnected device: BCDDC29DF136|7 = 0

app:412019-07-25 09:30:02.512 am debugRefreshed attributes of device [deviceAddress:47ae, ssdpTerm:urn:schemas-konnected-io:device:Security:1, serialNumber:, hub:1, name:, verified:true, ssdpPath:/Device.xml, model:Konnected, ssdpUSN:uuid:8f655392-a778-4fee-97b9-48259189def3f:schemas-konnected-io:device:Security:1, networkAddress:C0A80113, mac:BCDDC29DEF3F, ssdpNTS:null]

app:422019-07-25 09:30:02.485 am debugRefreshed attributes of device [deviceAddress:47ad, ssdpTerm:urn:schemas-konnected-io:device:Security:1, serialNumber:, hub:1, name:, verified:true, ssdpPath:/Device.xml, model:Konnected, ssdpUSN:uuid:8f655392-a778-4fee-97b9-48259189dea7a:schemas-konnected-io:device:Security:1, networkAddress:C0A80103, mac:BCDDC29DEA7A, ssdpNTS:null]

app:432019-07-25 09:30:02.503 am debugRefreshed attributes of device [deviceAddress:47ae, ssdpTerm:urn:schemas-konnected-io:device:Security:1, serialNumber:, hub:1, name:, verified:true, ssdpPath:/Device.xml, model:Konnected, ssdpUSN:uuid:8f655392-a778-4fee-97b9-48259189df136:schemas-konnected-io:device:Security:1, networkAddress:C0A80108, mac:BCDDC29DF136, ssdpNTS:null]

app:12019-07-25 09:30:02.104 am debugDiscovering Konnected devices on the network via SSDP

app:442019-07-25 09:25:02.500 am debugRefreshed attributes of device [deviceAddress:2b88, ssdpTerm:urn:schemas-konnected-io:device:Security:1, serialNumber:, hub:1, name:, verified:true, ssdpPath:/Device.xml, model:Konnected, ssdpUSN:uuid:8f655392-a778-4fee-97b9-48259182ffa46:schemas-konnected-io:device:Security:1, networkAddress:C0A80105, mac:ECFABC2FFA46, ssdpNTS:null]

app:422019-07-25 09:25:02.490 am debugRefreshed attributes of device [deviceAddress:47ad, ssdpTerm:urn:schemas-konnected-io:device:Security:1, serialNumber:, hub:1, name:, verified:true, ssdpPath:/Device.xml, model:Konnected, ssdpUSN:uuid:8f655392-a778-4fee-97b9-48259189dea7a:schemas-konnected-io:device:Security:1, networkAddress:C0A80103, mac:BCDDC29DEA7A, ssdpNTS:null]

app:432019-07-25 09:25:02.478 am debugRefreshed attributes of device [deviceAddress:47ae, ssdpTerm:urn:schemas-konnected-io:device:Security:1, serialNumber:, hub:1, name:, verified:true, ssdpPath:/Device.xml, model:Konnected, ssdpUSN:uuid:8f655392-a778-4fee-97b9-48259189df136:schemas-konnected-io:device:Security:1, networkAddress:C0A80108, mac:BCDDC29DF136, ssdpNTS:null]

app:412019-07-25 09:25:02.397 am debugRefreshed attributes of device [deviceAddress:47ae, ssdpTerm:urn:schemas-konnected-io:device:Security:1, serialNumber:, hub:1, name:, verified:true, ssdpPath:/Device.xml, model:Konnected, ssdpUSN:uuid:8f655392-a778-4fee-97b9-48259189def3f:schemas-konnected-io:device:Security:1, networkAddress:C0A80113, mac:BCDDC29DEF3F, ssdpNTS:null]

app:12019-07-25 09:25:02.092 am debugDiscovering Konnected devices on the network via SSDP

dev:62019-07-25 09:23:15.495 am debugFamily Room to Lanai Door is closed

app:412019-07-25 09:23:15.484 am debugReceived sensor update from Konnected device: BCDDC29DEF3F|5 = 0

dev:52019-07-25 09:23:15.125 am debugDining Nook to Lanai Door is closed

app:412019-07-25 09:23:15.103 am debugReceived sensor update from Konnected device: BCDDC29DEF3F|6 = 0

dev:42019-07-25 09:23:14.693 am debugMaster Bedroom Windows (5) is closed

app:412019-07-25 09:23:14.681 am debugReceived sensor update from Konnected device: BCDDC29DEF3F|1 = 0

dev:32019-07-25 09:23:14.339 am debugMaster Bath Windows (2) is closed

app:412019-07-25 09:23:14.328 am debugReceived sensor update from Konnected device: BCDDC29DEF3F|2 = 0

dev:22019-07-25 09:23:13.941 am debugCabana Bath to Lanai Door is closed

app:412019-07-25 09:23:13.931 am debugReceived sensor update from Konnected device: BCDDC29DEF3F|9 = 0

dev:12019-07-25 09:23:13.561 am debugTriple Slider to Lanai Door is closed

app:412019-07-25 09:23:13.543 am debugReceived sensor update from Konnected device: BCDDC29DEF3F|7 = 0

app:432019-07-25 09:20:02.464 am debugRefreshed attributes of device [deviceAddress:47ae, ssdpTerm:urn:schemas-konnected-io:device:Security:1, serialNumber:, hub:1, name:, verified:true, ssdpPath:/Device.xml, model:Konnected, ssdpUSN:uuid:8f655392-a778-4fee-97b9-48259189df136:schemas-konnected-io:device:Security:1, networkAddress:C0A80108, mac:BCDDC29DF136, ssdpNTS:null]

app:442019-07-25 09:20:02.456 am debugRefreshed attributes of device [deviceAddress:2b88, ssdpTerm:urn:schemas-konnected-io: