There's been a lot of buzz lately about smart garage door openers in the wake of Chamberlain Group's MyQ press release, where they finally came out and said it plainly that third-party apps are not welcome to integrate with their platform. This means that hundreds of thousands of Home Assistant, SmartThings, Hubitat, and HomeBridge users have lost access to their garage door in their smart home app.
While this news is disappointing, it's not at all surprising. The smart home community has complained about MyQ for years. The platform was plagued with downtime, poor integrations, and a mediocre app. MyQ flooded the market with cheap devices for retrofitting garage doors, and then started putting WiFi capability into their newer units, trapping them into the MyQ system.
I founded Konnected on the principles of opening up your wired alarm system, and now we're doing it for garage doors. Konnected launched our first smart garage door opener product this year and it is now in garages worldwide, working beautifully with SmartThings, Alexa, or Home Assistant.
Our mission has always been to make smart home open and accessible for all. I see a great opportunity for Konnected in the wake of this MyQ debacle to make an impact on the way we all interact with our garage. My product design philosophy is to prioritize what consumers need and want, and what I would want as a techie smart home nerd – a product that's safe, compliant, easy to use, and provides choices/options.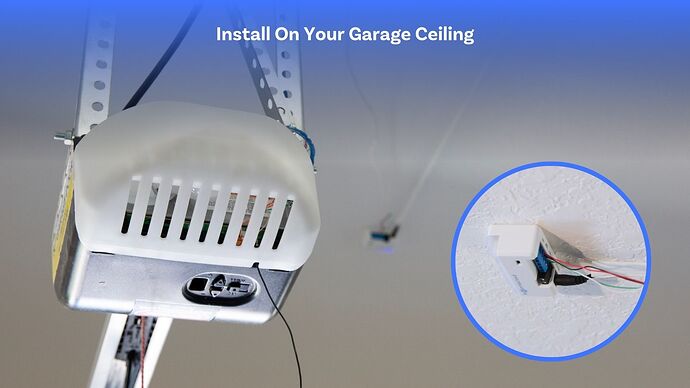 A smart home is more than a "remote-controlled by an app home". Third-party integrations are essential for automating, securing, and notifying based on events in the garage and other smart home devices. By restricting access to the platforms that users want to use to view and control their garage door, MyQ is making their product far less useful. Fortunately, we're here as an open and customer-first alternative.
We have a pile of improvements coming for Konnected's Smart Garage Door Opener. Here's an update on the current state of things:
Garage Door Opener hardware update. We've made a few revisions to the internals of the smart garage door opener to support more integrations and options. Specifically, the new model uses the new ESP32-S3-MINI microcontroller as the brains of the board, and will ship with ESPHome based firmware. From the outside and garage door opener compatibility-wise, there aren't any changes from the original. Coming this winter.
New model for Security+ 2.0 (yellow-button) openers. Many new Chamberlain and LiftMaster openers, those with a round yellow learn button, have an encryption technology called Security+ 2.0 that prevents them from working with a simple relay or push-button opener switch. Until recently, if you have a garage door opener like this, you needed to use a 3rd-party adapter for it to work directly with a non-MyQ product. In the Home Assistant community, an open-source software project called ratgdo, that interfaces directly with the Security+ openers using its encrypted protocol, has surged in popularity. I'm very impressed with the ratgdo capabilities and it's a beautiful solution to gain local and secure access to a newer Chamberlain or LiftMaster unit. Konnected is developing a model that will incorporate ratgdo technology to integrate directly with these openers. Expected spring 2024.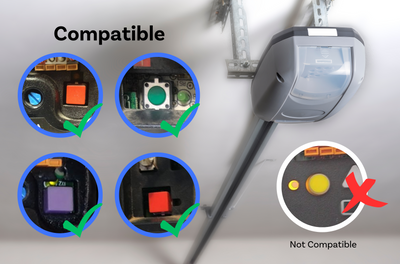 Safety & Compliance. I believe in the promise, "first, do no harm". It's very important that our products are safe and compliant, and that the Konnected brand is associated with that promise. Sometimes I'll get criticism that our GDO product is too expensive for "just an ESP and a relay". These people don't understand that so much more goes into developing a product than just the sum of its parts. Specific to garage door accessories, in the U.S. there are federal safety regulations that require a audible and visual pre-closing alarm, among other things. The FCC (in the U.S.) and similar bodies have RF guidelines that must be followed. For Europe we have to put the product through rigorous safety testing and other compliance requirements before it can be put on the market. Konnected takes care of that stuff so you can feel confident making it a critical part of your home.
Hubitat Integration. No, we haven't forgotten about our Hubitat users! I'm working on a Hubitat driver for our ESPHome based GDO firmware using the Hubitat ESPHome drivers released by the company. Hoping to get this released soon.
Google Home Integration. Also on my to-do list is Google Home integration via Konnected cloud. This will initially be a cloud-based integration, similar to our Alexa skill, which works by linking your Konnected Cloud account to Google. Down the road, I'm hoping for local Google Home integration via Matter.
SmartThings Edge. We've had a few false-starts with our plans to build a SmartThings edge driver this year. SmartThings Edge is a newer capability for those users with a SmartThings hub to communicate with the device locally without dependency on the cloud. As we transition our product firmware to ESPHome based firmware, we have to re-think our SmartThings integration strategy a little bit. I'm currently looking for some help here, so if you have experience building Edge drivers in Lua, please reach out.
Matter. Yes, we are committed to supporting the Matter standard! There currently isn't a Matter specification for a Garage Door device type, so unfortunately it's going to be at least next year before a Matter-compatible GDO hits the shelves. I've been talking with some of the individuals who are responsible for defining Matter specifications, and I'm excited for Konnected to be first out with a product when the Matter specification is published.
Apple HomeKit. We get so many questions about HomeKit support. Right now, the best way to support HomeKit with the Konnected Garage Door Opener is to use Home Assistant as the "bridge". Install Home Assistant on your home network, integrate the Konnected GDO with Home Assistant, then install the HomeKit bridge integration for HA. This also gets you access to your garage in CarPlay. In the future, we should have direct HomeKit support via Matter when it's available.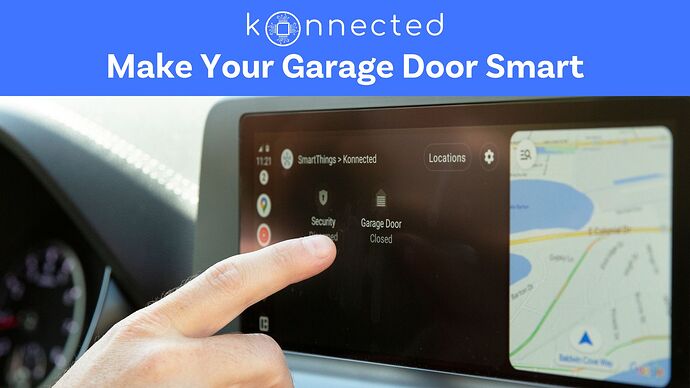 Android Auto. Your garage door will show up in Android Auto automatically with either the SmartThings app or Home Assistant app installed and integrated with your Konnected GDO.
Control4, Crestron and RTI. We're partnering with top Control4, Crestron and RTI driver developer Chowmain Software to build integrations with our Garage Door Opener v2 API
If you're a MyQ refugee, or if your garage door is still one of the not-so-smart variety, Konnected wants to help you make your garage smarter. If you've used Konnected's GDO, tell us your experience. If you're considering jumping the MyQ ship, tell us what you're looking for to make a switch.
By the way, Konnected's Garage Door Opener is on sale for the holiday season, now thru the new year!
Nate